Christmas Pyjamas: a wish-list
Now, sure, I'm aware that I only just announced we don't really do those here in Belgium. However. However. That doesn't mean I don't want to do Christmas pyjamas. Basically anyone can tell you I like pyjamas maybe a little bit too much. If I could – and if I didn't have to, like, you know, leave the house every once in a while – I would probably walk around in some sort of pyjamas all day. So naturally – of course – I have a wish list for this. I mean, who doesn't want Christmas pyjamas. Really?

Boux Avenue
There's Gingermen. So many gingermen. And quite honestly, I don't even like the taste of gingermen, okay. But ever since I saw Shrek I've had a soft spot for them and this just has so many of them.
Penguin Pyjama, Matalan
It has a GIANT penguin. Do I really need to say more?
Now I'm not really about those matching shirts. I am, however, all about sleeping in really oversized shirts. So this? Basically the perfetct combo for me and the bf – we never have to go outside in them, and he still gets to take the piss with me for getting them. Sounds perfect, right?
Now, let's be clear: I'm not here for that stupid, supposedly-luxurious feel of silk. Nope. If I'm going to be wearing a bathrobe? It's going to be the undiluted pleasure of fleece, keeping me warm, being so ridiculously soft it's crazy. And of course – the perfect Santa Clause-suit red. This isn't  a perfect match, but it's the closest I could find and, wel… I guess I'd be wanting the softness more than the exact colour-match 🙂
Reindeer slippers, Asda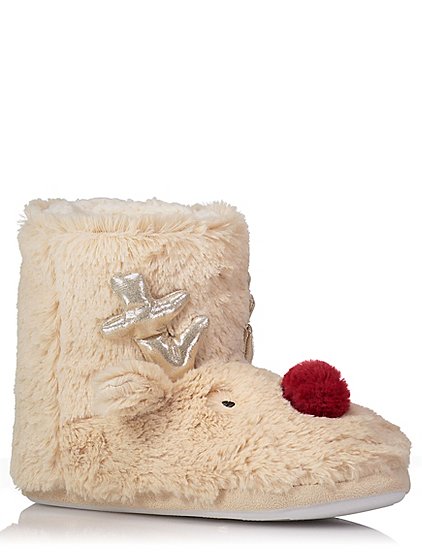 I hate having cold feet. I love this model of slippers. And this has freakin Rudolf with his red nose on it. It even has the ears! (Yes, I am very much not so quietly freaking out over this). And let's be real – what Christmas pyjamas outfit would be complete without reindeer slippers? Really now!
And there you have it, that's some Christmas pyjamas-options (in the broadest sense, naturally) that I could totally be fine with! Do you (and/or your family) do Christmas pyjamas? If so, what are your conditons? (ultra soft, Santa Claus-suit red, all matching, …?) Be sure to let me know below!
And of course, if you want to read more of my blogmas posts (they're not all about the exact shade of Santa Claus-suit red, or even about pyjamas, I promise!)  Be sure to check out the tag!
-Saar